By Jim Peifer and David Guy
As another serious drought grips California, we are again confronted with hard truths. One is this: California needs more water storage during these challenging years. This simple fact becomes clearer each year with more extreme weather—both droughts and floods. Prolonged dry periods like this are expected to become more frequent with climate change. So, we must tackle a difficult question: How to store more water in a 21st-century way with 21st-conditions?
The Sites offstream reservoir on the west-side of the Sacramento Valley is an obvious answer, but the solution also lies under our feet: groundwater. There is tremendous potential to boost the reliability of the water in our underground aquifers. For context, our groundwater basins in California hold 20 times more water than all the surface reservoirs in the state. The trick is improving our ability to move water into and out of this "green infrastructure" like Mother Nature would.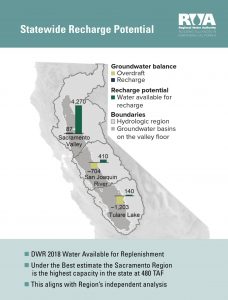 One region that holds significant promise for groundwater development is the Sacramento Valley, which includes the Sacramento metropolitan region and areas north in the Central Valley. There, aquifers have been generally sustainable for the past decade and are ready to serve as our 21st-century storage solution for addressing not only the prolonged dry periods but also the more intense wet bursts projected to come with climate change. In fact, according to a 2018 study by the California Department of Water Resources, 45 percent of all the water available for recharge in California exists in the Sacramento Valley.
Importantly, there are several areas that have been successfully recharging groundwater for decades or actively exploring new opportunities. We know this works—even during a period of "megadrought"—because it has been tested for decades. Moreover, there is extensive opportunity to expand on this proven success.
Aquifers in the Sacramento metropolitan area, for example, hold unique recharge potential–even during drought—in part because the region has access to surface water supplies from vibrant rivers flowing from the northern Sierra Nevada, where the bulk of California's snowmelt originates. This winter, local water providers added up to 1,000 acre-feet of excess flood water per week to our groundwater aquifer—enough water to serve 25,000 households for a year. We call this our Water Bank.
Continue reading the full commentary on Maven's Notebook here.
---
Jim Peifer is Executive Director of the Regional Water Authority, representing 21 water providers serving 2 million people in the Sacramento region. David Guy is President of the Northern California Water Association, which represents water districts, water companies, small towns, rural communities and landowners that beneficially use both surface and groundwater resources in the Sacramento Valley. 
Graphic: PPIC