Citrus Heights, CA – Lauded water industry professional James Peifer has been selected as the next Executive Director of the Regional Water Authority (RWA) and Sacramento Groundwater Authority (SGA), the organizations announced today.
Peifer comes to RWA and SGA from the City of Sacramento Department of Utilities, where he has served as Policy and Legislation Manager since 2012.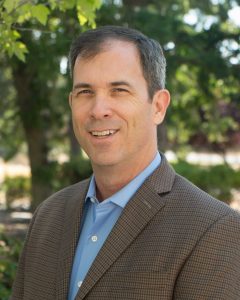 During his 25-year career, Peifer has held numerous leadership and advocacy roles at the state, regional and local levels. He is currently serving as a negotiator for the Sacramento region in the state's Bay-Delta Water Quality Control Plan update and as vice chair of the Federal Affairs Committee for the Association of California Water Agencies (ACWA).
"Jim brings an incredible mix of industry experience, negotiating skill and finesse," said RWA Board Chair Paul Schubert of Golden State Water Company. "We considered many qualified candidates for the position, but Jim is clearly the right person at the right time to lead RWA and SGA."
In 2017, RWA recognized Peifer and Andy Fecko of PCWA as the region's Water Statesperson of the Year for leadership and work on legislative and regulatory issues that impact the Sacramento region.
"Over the years, Jim has worked hard to cultivate excellent relationships with our federal, state and local partners, including the U.S. Bureau of Reclamation, as well as the environmental community," said SGA Board Chair Pam Tobin of the San Juan Water District. "The significance and skill of that accomplishment cannot be overstated and will be crucial in the coming years as we continue working to ensure reliable water supplies while protecting our environmental resources."
During his 16 years at the Sacramento Department of Utilities, Peifer filled numerous roles, including managing the Government Affairs and Sustainability sections, and engineering planning services. This included overseeing sustainability projects designed to help the city reduce its environmental impacts and adapt to climate change.
During California's historic drought, Peifer served on the Department's leadership team, overseeing the Water Use Efficiency program, and was instrumental in updating the city's outdoor water conservation ordinance to be among the state's most stringent. He also served as chair of ACWA's Urban Water Conservation Subcommittee during the development of AB 1668 and SB 606 (Water Conservation and Drought Planning legislation) and played a significant advocacy role in that process.
Prior to working for Sacramento, Peifer worked at the County of Sacramento Department of Water Resources where he managed the technical services element of the Freeport Regional Water Project. He began his career working at consulting firms where he provided engineering services for municipal water projects throughout California. Peifer holds a bachelor's degree in civil engineering from UC Davis.
Schubert and Tobin thanked Interim Executive Director and Technical Services Manager Rob Swartz for serving in a dual role during the months-long search and the RWA Executive Committee for working seamlessly to review the many qualified applicants.
"RWA was in truly capable hands with former Executive Director John Woodling, and now we are looking forward to achieving the next level under Jim's leadership," Tobin said.
Peifer is expected to begin as RWA and SGA Executive Director on June 28.
About the Regional Water Authority: RWA is a joint powers authority representing 21 members and five associate member agencies in portions of Sacramento, Placer, El Dorado, Yolo, and Sutter counties. Formed in 2001, its primary mission is to help its members protect and enhance the reliability, availability, affordability and quality of water resources.
About the Sacramento Groundwater Authority: SGA's mission is to manage, protect and sustain the groundwater resources of the basin in Sacramento County north of the American River.