Karen Ross, Secretary of the California Department of Food and Agriculture
Karen Ross has been California's Secretary of Food and Agriculture since 2011. Her extensive leadership spans agriculture, environmental stewardship, climate adaptation, and trade. Secretary Ross prioritizes reconnecting consumers with food producers and expanding access to California-grown products. Her background includes growing up on a Nebraska farm as a 4-H kid, and she holds a bachelor's degree from the University of Nebraska-Lincoln.
---
Dorene D'Adamo, Vice Chair of the State Water Resources Control Board
Dorene D'Adamo has been on the State Water Resources Control Board since 2013, currently serving as Vice-Chair, specializing in water supply and water quality in agriculture. She serves on the Board for the California Partnership for the San Joaquin Valley and played a key role in air quality and climate change programs during her tenure on the California Air Resources Board. Vice Chair D'Adamo earned a bachelor's degree from UC Davis, and a Juris Doctor from the University of the Pacific, McGeorge School of Law.
---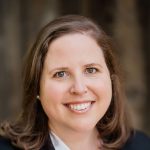 Liz Forsburg Pardi, California Policy Director of The Nature Conservancy
Liz Forsburg Pardi serves as The Nature Conservancy's California Policy Director, overseeing policy engagements, and directing strategies on legislation and funding. With over 18 years of policy expertise, Ms. Forsberg Pardi led TNC's forest and ag policy outreach, served on California's Board of Forestry, and held roles at the White House and Congressional Budget Office. She earned a Ph.D. in natural resource economics and policy from UC Berkeley.
---
Our Moderator:
Raiyna Villaseñor is an Associate Project Manager at the Sacramento Groundwater Authority with diverse experience in environmental projects, including surface water, groundwater, and flood management. She holds a bachelor's degree in Environmental Studies with a minor in Biology from California State University, Sacramento.