Recorded Monday, March 7, 10-11 a.m.
The Regional Water Authority welcomed Karla Nemeth, Director of the California Department of Water Resources, to share her thoughts on the statewide water supply outlook for 2022 and how DWR works to balance water supply and environmental needs. You can access the recording here.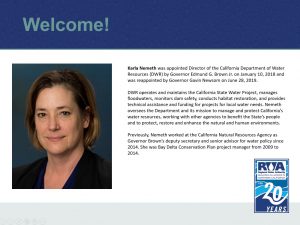 Karla Nemeth was appointed Director of the California Department of Water Resources (DWR) by Governor Edmund G. Brown Jr. on January 10, 2018 and was reappointed by Governor Gavin Newsom on June 28, 2019.
DWR operates and maintains the California State Water Project, manages floodwaters, monitors dam safety, conducts habitat restoration, and provides technical assistance and funding for projects for local water needs.
Nemeth oversees the Department and its mission to manage and protect California's water resources, working with other agencies to benefit the State's people and to protect, restore and enhance the natural and human environments. Previously, Nemeth worked at the California Natural Resources Agency as Governor Brown's deputy secretary and senior advisor for water policy since 2014. She was Bay Delta Conservation Plan project manager from 2009 to 2014.