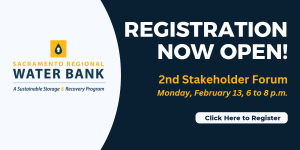 Monday, February 13, 2023, 6 to 8 p.m.
Please join the Regional Water Authority (RWA) for the second Stakeholder Forum for the Sacramento Regional Water Bank, a groundwater storage program that utilizes the reservoir under our feet for storing water during wet times for use during dry times.
Register today at https://stantec.zoom.us/webinar/register/WN_F1cxNniKTJureBGK5TG4MQ 
You can be added to our email list to receive updates here.