The U.S. Environmental Protection Agency (EPA) today honored the Regional Water Authority (RWA) with the national 2021 WaterSense® Partner of the Year Award for its dedication to helping consumers and businesses save water, even with the challenges presented by the COVID-19 pandemic in 2020.
This is the second WaterSense Award for RWA, which in 2016 earned a WaterSense® Excellence in Education and Outreach Award for its outstanding efforts to educate Sacramento-area residents about water efficiency and the WaterSense brand.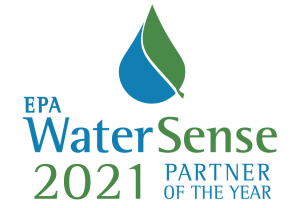 "We are honored to receive such a prestigious award and proud of what the region's water providers have achieved by working together," said RWA Water Efficiency Program Manager Amy Talbot. "WaterSense-labeled fixtures deliver savings each time they are used, making them a critical building block for sustaining long-term water efficiency in the Sacramento region and beyond."
In 2020, the RWA helped local water providers promote WaterSense's monthly themes for Fix a Leak Week, water-smart landscaping, Sprinkler Spruce-Up, and saving water at home. To make it easier for local agencies to incorporate WaterSense into their outreach efforts, the RWA created an online shareable library of customized WaterSense tools, including campaign materials and social media posts.
The RWA found several creative ways to engage residents during the pandemic. Through the Water Spots Video contest, local middle and high school students created public service announcements (PSAs) with a water efficiency theme. The contest received 90 video submissions, and the winning PSA was played during the "coming attractions" on six different drive-in movie theater screens viewed by over 140,000 people.
To reach a younger audience, the Regional Water Authority funds several exhibits, which include examples of WaterSense labeled products and promote water efficiency, in Sacramento's new SMUD Museum of Science and Curiosity (MOSAC).
The Regional Water Authority partnered with WaterSense manufacturer partner Rachio in 2020 to offer a rebate for Rachio's WaterSense-labeled irrigation controllers.
The RWA also worked with a research firm to conduct two focus groups with residential water customers to explore attitudes, benefits, and barriers to finding and fixing household leaks, which helped the RWA refine its materials for 2020.
"In 2020, our WaterSense partners continued to make saving water possible by educating consumers and businesses about WaterSense and water-efficient behaviors," said Veronica Blette, the WaterSense program manager. "Our award winners' creative and committed approaches to water conservation helped consumers save water, energy, and money on their utility bills at a time when they needed it most."
WaterSense, a voluntary partnership program sponsored by EPA, is both a label for water-efficient products and homes and a resource for helping consumers learn ways to save water. Since the program started in 2006, WaterSense labeled products have helped consumers and businesses save 5.3 trillion gallons of water—enough water to supply all households in the United States with water for 200 days. In addition to water savings, WaterSense has helped reduce the amount of energy needed to heat, pump, and treat water by 603 billion kilowatt hours and save $108 billion in water and energy bills.
Many Sacramento-area water providers offer rebates for purchasing and installing WaterSense-labeled products at home and work. Learn more about rebates, and ways to use water efficiently, at BeWaterSmart.info.
The Regional Water Authority (RWA) is a joint powers authority representing 20 water providers serving 2 million people in the greater Sacramento region. Formed in 2001, its primary mission is to help its members protect and enhance the reliability, availability, affordability and quality of water resources. Learn more at BeWaterSmart.info and rwah2o.org.
About WaterSense: WaterSense, a partnership program sponsored by EPA, seeks to protect the future of our nation's water supply by offering consumers and businesses simple ways to use less water with water-efficient products, homes, and services. Learn more at www.epa.gov/watersense.